Maiden Marine
Maiden Marine Ltd,
Bowness on Windermere Cumbria, LA23 3JH
Tel:+44 (0) 15394 88050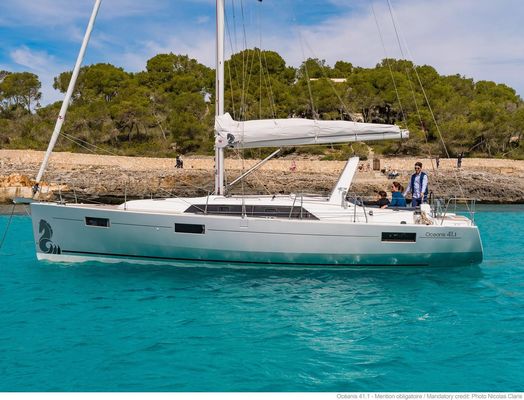 2019 Beneteau Oceanis 41.1
Length
40'11 ft / 12.47 m
The Oceanis 41.1 is a distillation of performance at sea and on-board intelligence, offering wide scope for personalization. On a perfectly balanced chined-hull, there is no equivalent in cockpit space on any other boat this size.
EXTERIOR DESIGN
With a mast positioned further back, the Oceanis 41.1 has a sail plan that guarantees excellent balance under sail. Equipped with the Performance Pack (German System and set of Elvstrom sails), this cruiser promises comfortable sailing a very good speeds.
INTERIOR DESIGN
Access to the Oceanis 41.1's harmonious interior bathed in light is by a gently sloping companionway. It offers new features in each of its four accommodation versions. In the two cabin version, the utility room for a dishwasher and storage, as well as a large cockpit locker affording access from inside are examples of details that mark the difference.
FULL BEAM CRUISING
Clearing space and simplifying life on board, the Oceanis 41.1 layout broadens your cruising horizons.
MASTER CABIN
With its double door, bed head facing forward and the choice of an ensuite bathroom, the master cabin is unquestionably the most attractive feature of the Oceanis 41.1.
SWIM PLATFORM
Providing excellent protection under sail, the transom closing the aft of the yacht opens out to provide a huge swim platform. This affords direct access to the sea, while preserving space and comfort in the cockpit.
BRIGHT
Whatever the woods chosen to create the general atmosphere, the six large hull portholes fill the interior with an incredible amount of light.
Specifications
Length Overall
40'9 ft / 12.42 m
Max Draft
7'2 ft / 2.19 m
Min Draft
5'6 ft / 1.68 m
CONSTRUCTION
• Design in accordance with European Directive requirements and according to CE certification
• Monolithic hull design in polyester
• Monolithic structural inner moulding bonded to the hull
• Deck injection constructed in glass fibre and Saerform foam sandwich, covered with "diamond-point" non-slip coating
• Cast iron keel fixed with bolts and stainless steel backing plates
• Rudder hung with glass composite stock
• White coloured hull - Grey metal hull graphics
DECK EQUIPMENT
RIGGING
• Standard mast 9/10 anodized aluminium installed on the deck, 2 aft-swept spreaders
• Anodised aluminium boom
• Discontinuous stainless steel standing rigging
• 2 Backstay: Briddle
• Rigid boom vang with tackle
• Genoa furling system with drum on the deck
• 1 Stand-Up block for mainsail on fixed composite arch
• 2 Genoa tracks with piston adjusted traveller cars
• 2 Genoa sheet turning blocks
• Rigging run back to cockpit (except boom topping lift)
• Complete running rigging: Main halyard, genoa halyard with clutch on mast and cleat, Boom topping lift with cleat on mast, Mainsheet, 2 Genoa sheets, 2 rapid reefing lines
• 6 Jammers
WINCHES
• 2 Self-tailing genoa sheet winches (H46.2 STA)
• 1 Coach roof winch self tailing (H40.2 STA), starboard
• 2 Aluminium Speed Grip winch handles
• 2 Winch handle boxes
SAILS
• Furling genoa with UV protective strip, Natural colour
• Semi full batten written sail with slider and roller slider
• Lazy Jack and Lazy Bag in Natural colour
MOORING LINES - MOORING
• Self-bailing chain locker - Clench bolt - Hatch cover
• Single roller stainless steel bow fitting with offset roller
• 6 Aluminium mooring cleats - Stainless steel deck line protection
SAFETY ON DECK
• 1 Open stainless steel forward pulpit
• 2 Stainless steel pushpits
• 1 Lifebuoys support bracket
• Ring for flag welded on pushpit
• Double guardrail and stainless steel stanchions - Openings in guardrail toport and starboard
• Emergency ladder (Pushpit)
COCKPIT
• Self-draining cockpit
• 1 Sail locker (to port)
• 2 Lockers in cockpit sole beneath helm's feet
• 1 Liferaft locker under starboard seat (0,95 x 0,52 x 0,33 m /3'1'' x 1'8'' x 1'1'')
• 1 Gas locker
• Natural solid wood slatted cockpit benches
• 2 Steering wheel consoles: Stainless steel steering wheels - 900 mm diameter - Leather covered - Steering gear at the helm station - metal cable transmission system - Stainless steel handrail - navigation instrument support (optional instruments) - Cup holder
• 1 Deck filler for access to tiller system
• 1 Tiller
• 2 Steering compass on binaccle
• Portside engine control and control panel
• Cockpit table, stainless steel structure, 2 leaves, Cup holders
• 1 Mainsail arch (fixed, Composite, Integrated lights)
• 2 Hinged PMMA companionway doors - Sliding hatch made of PMMA
SWIM DECK / STERN DECK
• Fully opening transom, convertible to bathing platform (2,76 x 0,74 m /9'1'' x 2'5'')
• Manually operated with gas cylinder assist
• Natural solid wood decking on swim platform
• 1 Stainless steel integrated telescopic swimming ladder
INTERIOR
• Woodwork Alpi Mahogany
• Parquet type laminated floors
• Fabric upholstery
• Mattress in cabins, HR35kg/m3 foam
COMPANIONWAY
Headroom: 1,92 m / 6'4''
• Wooden saloon companionway with moulded wood suspended steps with non-slip surface
• 2 Leather covered stainless steel handrails
SALOON
Headroom: 1,93 m / 6'4''
• U shaped saloon bench - double density foam
• Saloon table, 1 folding leaf - Varnished wooden top - Central and side storages, Bottle holder
• Mirror on starboard bulkhead
• Storage along the hull - Storage under bench seats
• 2 Coachroof panoramic windows with curtains
• 2 Hull portholes with curtain
• 2 Opening portholes on coaming in side windows
• 1 Opening deck hatch with fan, mosquito blind
CHART TABLE - PORT SIDE
• Table with flap - Moulded wood fiddle
• Switch panel on bulkhead for access to electrical functions
• 1 Reading light
• 2 USB ports
GALLEY - PORT SIDE
Headroom: 1,94 m / 6'4''
• L-shaped galley
• Compact grey laminated worktop
• 1 Stainless steel sink 1 rectangular basin - 1 Mixer tap cold water / hot water, under pressure
• 1 Gas cooker 2 burners - Stainless steel oven on mountings - Stainless steelprotection handrail
• 1 190 litre ice box / 50 US Gal, top opening + Freezer (10 L / 3 US Gal)
• Fitted lockers and closed shelving - Bin
• 1 Base cabinet: 2 Drawers, 1 Stowage
• 1 Opening portlight with curtains in side windows in the coaming
• Storage space along the hull, with sliding doors
STARBOARD AFT HEAD COMPARTMENT
Headroom: 1,85 m / 6'1''
• Access through saloon and the starboard aft cabin
• Separate shower - 1 Mixer tap hot water / Cold water
• 1 Manual toilet
• 1 Rigid holding tank 80L / 21 US Gal
• Basin - 1 Hot/cold water mixer tap
• Head cabinet
• 2 Mirrors
• Toilet accessories
• 1 Opening portlight with curtains in side windows in the coaming
STARBOARD AFT CABIN
Headroom: 1,92 m / 6'4''
• 1 Double bed (2,07 x 1,47 x 1,11 m / 6'9'' x 4'10'' x 3'10'')
• Access door to starboard aft head
• Hanging locker - Open cubbyholes
• 1 Bed access sideboard
• 1 Hull porthole with curtain
• 1 Cockpit windows with curtains
• 1 Porthole opening onto cockpit with curtain
• 1 flush deck hatch with blind / mosquito net
2 cabins layout
AFT-GALLEY (PORT AFT)
Headroom: 1,92 m / 6'4''
• Access via galley
• Large storage area (1 Hanging locker, Cupboards)
• Space for dishwasher (optional) in place of dresser
• Access door to port cockpit locker
• 1 flush deck hatch with blind / mosquito net
3 cabins layout
PORT AFT CABIN
Headroom: 1,92 m / 6'4''
• Double bed - Port cabin (2,07 x 1,32 x 1,10 m / 6'9'' x 4'4'' x 3'7'')
• 1 Bed access sideboard
• Cupboard - Hanging locker - Closed shelving
• 1 Hull porthole with curtain
• 1 Cockpit porthole with curtain
• 1 flush deck hatch with blind / mosquito net
• 1 Cockpit windows with curtains
1 head layout
FORWARD CABIN
Headroom: 1,88 m / 6'2''
• Central double bed (2,00 x 1,50 m / 6'7'' x 4'11'')
• 1 Hanging locker (port side), 1 Cupboard with shelves (starboard), Open lockers along the hull and bedhead, 1 Storage space under bed
• 1 Dressing table
• 3 flush deck hatches with blinds / mosquito net
• 2 Hull portholes with curtain
2 head layout
FORWARD CABIN
Headroom: 1,88 m / 6'2''
• Double bed (2,12 x 1,50 x 1,25 m / 6'11'' x 4'11'' x 4'1'')
• 1 Cupboard: ½ Hanging locker, ½ shelves.
• 1 Storage space under bed
• Open storage compartment along the hull
• 1 Closed locker
• 2 Opening hatches with blind / mosquito net
• 2 Hull portholes with curtain
STARBOARD FORWARD HEAD COMPARTMENT
Headroom: 1,81 m / 5'11''
• Access through foward cabin
• Manual toilet
• Moulded basin - Hot/cold water mixer tap
• 1 Mirror
• 1 Head cabinet
• Toilet accessories
• Cupboard
• 1 Opening porthole on roof with fan, mosquito blind
ENGINE
• Engine Yanmar (Diesel): 45 CV/HP Common rail
• Engine control - Control panel in cockpit
• Engine compartment: Soundproofing foam - Ventilation: 1 air intake and 1 pressured air outlet
• 1 Alternator 12 V / 125 Ah
• 1 Rotomoulded diesel tank 200 L / 53 US Gal (under port aft berth) - Electronic gauge - Low level alarm - 1 Deck filler
• Filters: Sea water - Diesel - Water separator
• Fixed three blades propeller
• 1 Engine access through companionway (opening with 2 gas struts) - 2 Engine access through aft cabins
ELECTRICITY
• 12 V circuit
• 2 service batteries (85 Ah) - 1 Engine battery (110 Ah)
• 1 Power distributor
• 12 V Electrical panel (Fuses - Voltmeter - Water gauge - Fuel gauge - Battery warning - Fuel warning - Water warning)
• 1 12 V socket
• LED lighting: Overhead lights - Reading lights
• Navigation lights (LED): 1 Forward and aft navigation lights - 1 Engine navigation light / Spreader light forward of mast - 1 Anchor light on masthead
• Wire runs for options cables
• 1 Deck searchlight
PLUMBING
• 1 rotomoulded freshwater tank (200 L / 53 US Gal Forward cabin) - 1 Deck filler
• Pressurised electric water pump - Expansion tank - Inline filter
• 40 L Electric calorifier / 11 US Gal (engine start)
• 1 Rigid holding tank 80L / 21 US Gal (Aft starboard head compartment)
• Delayed shower draining and electric shower drain pumps
• 1 Electric bilge pump - 1 Manual bilge pump
GAS
• 1 Box for 2 gas bottles in cockpit (0,28 x 0,44 mm diameter / 11'' x 1'5'')
• Regulator and safety tap
OPTIONS
Navigation electronics B&G
• 4G Radar
• Wifi interface
• WR 10 Wireless autopilot remote control
• Chart table: Fixed B&G + V50 VHF, AIS receiver function + H50 cockpit handset
• AC42 autopilot (with gyro compass)
• AIS 400
• Forward Scan Sensor (Forward underwater vision)
Rigging - Sails
• Anodized mast furling system with Mylar-Taffetas mainsail
• Asymmetrical spinnaker rigging + Code 0 rigging
• Self-tacking jib hardware
• Code 0 on "Top Down" furling system
• Self-tacking jib (replacing genoa)
• Asymmetrical spinnaker
• Self-tacking staysail with manual furling + Fixed forestay
• Additional bow roller - Stainless steel bobstay
• Backstay adjusted by tackle
• Releasable forestay chainplate
• Genoa sheet track leads adjustable from the cockpit
• 2 flag halyards
Winches
• Port coach roof winch (manual) - H40.2 STAEH + Clutches
• Starboard electric coachroof winch - H40.2 STAEH
• Electric genoa sheet winch - H46.2 STAEH
Hull - Deck - Cockpit
• Grey "Perle" hull
• Blue-grey hull
• Solid wood decking on cockpit sole
• Slatted solid wood side decks
• Solid wood slatted helm seats
• "Luxe" polyester/wood cockpit table + White PVC protective covers
• 30L / 8 US Gal refrigerated icebox in "Luxe" cockpit table - Positive cold
• Silver Coachroof sprayhood
• Silver Cockpit Bimini
• "Luxe" coachroof sprayhood, Cadet Grey
• "Luxe" bimini, Cadet Grey
• "Luxe" bimini with integral closure, Cadet Grey
• Dark Narval Cockpit cushions
• Bow thruster
• 3 feathering blades propeller
• Stainless steel arch with davits
• White composite steering wheels
• Moorings lines, Mooring, Fenders
• Windlass control in cockpit with chain counter
• White PVC steering wheel covers
• Shore freshwater supply
• Mooring cleats on transom
• Inflatable gangway
• Inflatable swimming pool
• Electrical inflater
• Outboard engine
Interior equipment
• Interior woodwork: Alpi satin light oak
• Stainless steel 2 burner oven/grill cooker on Luxe mounting
• Microwave oven
• Dishwasher (Available only in 2-Cabin version)
• Slat mattresses
• Berth in saloon
• Saloon table extension
• Holding tank additional
• Extra water tank (330 L / 87 US Gal)
• QUIET FLUSH electric toilet
• Sea water/fresh water foot pump
• TV LED 32'' in the saloon
• TV LED 24'' in forward cabin
• Mosquito nets
• Interior upholstery: according to swatches
• 12 V / 220 V inverter - 2 000 W
• 7,5 KVA 220 V / 50 Hz Generator (Only 2 cabin layout)
• Forced air heating fuel
• Air conditioning
• Water maker (60 l/h / 16 US Gal/h)